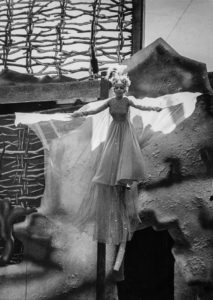 I've seen my mother in dozens of performances. And although I connected with the characters she played, I always looked for a layer of my mom; not Ruth or any of the other names she would slip on, but Mom. No matter how closely she wore her characters as an actor, I usually found just a hint of her in her hair, her voice, or the expression on her face. I knew that the woman on stage, on screen, or on television had not been consumed, and that I'd have her back at the end of the day.
It was when she played the roles of William Shakespeare and the Greek Theatre that I could not find her. No matter how much I tried, I found instead Kate in The Taming of the Shrew, Cordelia in King Lear, Gertrude in Hamlet, Cassandra in Orestei, and Iris in The Birds.  My mother had disappeared, and someone else emerged to tell the story that thrust my imagination like good theatre and good actors always do.
During every performance of The Taming of the Shrew, I secretly wished that she would not be tamed. That she would defy her suitor and live single and triumphant.  When she flew onto the stage in The Birds, I was less her daughter and more her fan as my little girl mind believed that she was really flying. After the performances, I would rush backstage to find her.  She would still have on her costume and exaggerated makeup that looked so natural from the stage—red lips outlined in black, penciled brows, lots of eye shadow, and thick black eyelashes.  Her gowns flew behind her as she reached for me.  I would touch the thick brocade and hug the heavy velvet or delicate lace as if I were playing in her closet, and she was Mom again. She'd hug me and leave a lipstick smile on my cheek.
Visitors would interrupt our conversation with compliments and roses. She'd introduce me as her baby who was already taller than she. I'd carry her pocketbook, her glasses, and the bouquet of flowers and walk out of the stage door in front of her like a guiding light. She spoke with people and signed Playbills all the way to the car where Daddy waited to take us home. I didn't know then that she was the first black woman to perform in the American Shakespeare Theatre.
My mother gave many memorable performances, and I continue to be mesmerized by her talent, skill, and craft as an actor. Each of her performances evokes a personal memory of Ruby Dee—the mother, the actor—but her Shakespeare and Greek Theatre performances have a special place in my heart. –Hasna.
Photo from THE BIRDS, Ypsilanti Greek Theatre, 1966.